I'm finally catching up on my projects! Originally, this costume came about as I joined my first cosplay group. Our project was genderbent Disney princes and heroes, for MCM October. This convention has now been, and I wore the costume with a group of beautiful and amazing cosplayers! It was a great experience and I'm glad with how this turned out.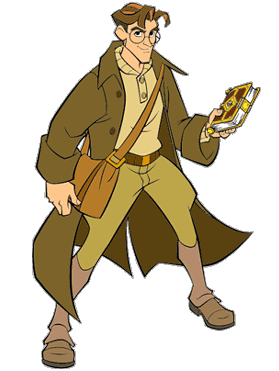 I've always loved Atlantis, it was one of my favourite films growing up and I think it's largely underrated and overlooked. Although I love Kida as a character, I don't think I could ever comfortably cosplay her. I always identified more with Milo anyway, and a few summers ago, while visiting my grandmother in Portugal, she gave me some buttons from her stash which would be perfect for Milo (more below). These buttons pretty much made me pick Milo over any other options.
So! To start, I broke the costume down into elements.
Coat
Jumper
Trousers
Glasses
Shoes
Pretty simple compared to other costumes (Jane has like 18 separate elements!).
My boyfriend owned a jumper that I thought would be perfect and I bought round fake glasses for £2 off eBay, so those were sorted. For the coat, I wanted to place it along the 1910s. Atlantis doesn't have quite a set period but I always thought it was along there (though after rewatching it I think it's meant to be a bit earlier). The first pattern I tried for this, it was a motor coat pattern by Reconstructing History, although a lovely pattern, didn't work for this costume. The jumper made me really bulky as it is not my size at all, so a more form fitting coat wouldn't work.
I dug around for a new pattern and found this one by Folkwear:
I did a mock up and liked the look of it, so I went ahead!
In terms of fabric, I searched high and low for an affordable wool in dark green but I really struggled. Either they were too limp or (mostly) too expensive. I finally found one in Walthamstow Market that would work if I interlined it, so I bought some discounted dark green cotton twill on Minerva Crafts (I really like this website!).
I did some minor alterations to the pattern based on sizing (though I needed it to be quite loose because of the massive jumper) and changing the lapel shape. I cut the pieces out of both the twill and the wool.
I used colour pins to colour code each panel and wrote a little cheat sheet.
Then I flatlined them together by running large machine stitches along the edges. I ironed everything as I went.
I mostly followed the instructions on this, as I had never done anything like a coat at all. And facings still intimidate me. I started with sewing the two darts on the front pieces.
Once that was done, I started the seams by moving from the centre back outwards.
The seams weren't too tricky,  so it came together fairly easily. I also finished the seams as I went, by binding them in lace tape. I did as I went as it was easier to manoeuvre underneath my machine this way.
After the seams were done, I tackled finishing the front facing and the collar. To be honest, I'd never done anything like this, so I religiously followed the instructions. The underside of the collar was interfaced, then sewed together with right sides facing each other. I trimmed the seam allowance, turned it right side out and pressed. Then I attached the collar to the coat, and top stitched around the edges. It was a bit tricky!
I moved onto the sleeves, which were pretty straightforwards. I sewed up the side seams with french seams, then attach the cuffs. Then I set the sleeves, easing them into the armscye.
The last step of construction were the pockets. I also followed the instructions for these. The pocket flap was sewed to its facing, then pressed and sewed to the pocket. The pocket is pinned in place and then top-stitched down.
I handsewed the buttons down and used my machine to make buttonholes.
Meanwhile, I'd started working on the decorations. I wanted the buttons to feature heavily, and I figured some sort of embellishment would also fit with the gender-bent idea, as I ended up not really 'feminizing' the outfit. To do this, I started out with some weird organza-y looking fabric that I had in my stash. I traced out the lapel, cuffs and pocket flaps onto it.
I laid out some wire ribbon, a weird but amazing mesh-y thing.
Then I embellished it with different kinds of beads, sequins and the buttons.
I cut the shapes out, using a flame to finish the edges of the fabric, and then handsewedthese as appliques.
For the trousers, in my head I always thought they were jodhpurs, though after rewatching the film a few times, they had a sleeker look about them. I bought the Simplicity 8114 pattern for this, which isn't historical at all but more of a steampunk vibe. I did a mock up, which I liked. I ended up having to do a lot of modifications to the pattern, particularly to fit around the crotch area (I had terrible 'smile' lines) and to fit closer towards the calves.
The construction of these was fairly straightforwards. All the bits were cut out of my brown wool.
Also here is my super lazy way of transferring darts:
I sewed up the darts first, on each piece, then pressed them.
Then I did the in seam, by matching the front to the back appropriately.
Then the two halves were connected by doing up the crotch seam and the side seams. I pressed all the seams, making sure to clip around the edges, but also using pinking shears to finish the seams.
At this point I was ready to put in the zipper. I misread the instructions. Turns out on this pattern, the zipper is meant to go in the back seam, not the front. But I liked how my zipper looked so I didn't bother to change it.
Once this was done, there was a sort of waistband/facing thing to be added. Because I'd messed up the zip location, I had to adjust the seaming of it a bit. Once that was sorted, it was interfaced and seamed.
Then one long edge was finished by turning it under and sewing it down.
Then seamed and stitched to the end to the top edge of the trousers.
For the legs, I did a simple hem by turning it under twice and stitching it down by hand.
And they were done! But even after all the alterations, I was still getting terrible smile lines, so I curved it in more. This really helped, but I think my pants fitting knowledge needs to develop some more!
I cut and style a wig from wigisfashion that was beautiful and it broken my hear to cut it, but it had to be done.
The last elements was my Shephers' Journal prop made by the wonderful MadCatProps completed the costume beautifully.
It was such a blast to wear this costume in such a big and amazing group of people! Here is a photo of the whole group:
I'll post soon with photos of the full costume!